If you're driving any distance this summer you may well find yourself enjoying an expensive half hour or so in one of the UK's network of motorway service stations, drinking coffee and buying petrol that – by simple virtue of their proximity to a major trunk route – cost more than gold.
Still, the service station stop-off is part of the fabric of British life, and to be fair all services are not the same. With that in mind, here are eight things you might not know about the great British motorway service station.
The first
Watford Gap was the UK's first service station and opened on November 2nd 1959, the same day as the M1 motorway it serves. Confusingly, the service station is not near the town of Watford, which is another hour or so down the road, but instead takes its name from the village of Watford in Northamptonshire. For many drivers the iconic stop-off marks a symbolic dividing line between the north and south of England. The picture is of Watford Gap in its first incarnation.
The best
A burger bar, coffee shop and WH Smith, alongside a bored AA man, a couple of gambling machines and, if it's posh, a mini Marks and Spencer or Waitrose. Most service stations are pretty identical, but not all.  Tebay services on the M6, slap bang on the border of the Lake District and Yorkshire Dales, features a duck pond, caravan park, farm shop, play area and outside barbecue, all set against breathtaking views. In May 2012, Visit England gave Tebay south a five star rating, the first maximum score for a service station, and in 2014 a Which? Survey gave it five stars for toilet cleanliness and food quality.
A close second
Tebay (above) tends to win best service station polls, but now Gloucester Services on the M5 is running it close. That's no surprise, given that Gloucester is run by the same family firm – Westmorland – that owns Tebay, and boasts homemade food cooked on the premises, a farm shop selling produce sourced from within a 30-mile radius, and a large, modern building flooded with natural light.
The worst
The 2014 Which? Survey named Charnock Richard in Lancashire, just 64 miles south of Tebay, as the nation's worst, and others have described the 1960s development as ugly, overcrowded and understaffed.
"Just Horrible"
But to many motorists Bridgewater in Somerset may even top Charnock Richard for poor design, with users of the Motorway Services Online website – a site dedicated to all things service station - describing the building and all-round experience as "like driving into a cave", "something a kid would build with Lego", and "just horrible".
The most expensive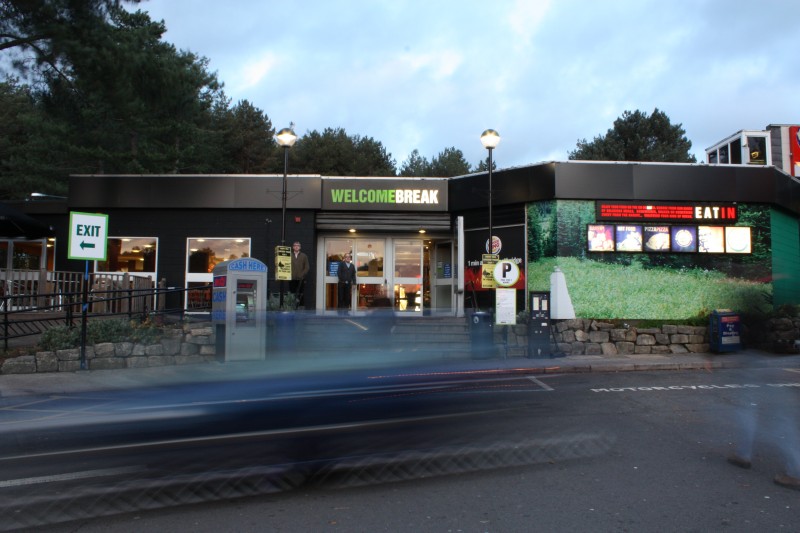 British motorway service stations are not famed for their 'pile it high and sell it cheap' philosophy, but some really take the (£1.50) biscuit when it comes to price. The Which? Survey last year found a cheese sandwich at Fleet Welcome Break on the M3 in Hampshire that cost £3.75, a pretty heavy mark-up against a supermarket equivalent of 85p.
The best toilets
You might think the least you should expect from a service station is clean toilets, but unfortunately even that seems to be beyond some. For a more satisfying bathroom experience canny motorists head for the Gordano services on the M5 near Bristol, which boasts £1 million toilet facilities and consistently ranks highly with visitors.
The most space age
It was all about the space age in 1965, and out-of-this-world architecture even reached as far as Lancaster Forton services on the M6, which features a concrete hexagonal tower reminiscent of an airport control tower. The top of the tower – offering panoramic views of the traffic jams of the M6 – was once home to a restaurant and sun deck until 1989 when both were closed on health and safety grounds.